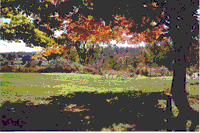 A Steady Miracle - Skimmilk Farm
1974 - July 2006
When I think back over the thirty-two years of Monday workshops at Skimmilk Farm, what stands out has more to do with the place and the camaraderie than with my own writing. By that I don't mean that the help I received was insignificant. No one's work was given anything less than the full attention of the group, and this was extremely valuable. Comments were serious and sometimes stern, but they were never meant to debilitate or destroy.
"Bring that back!" was a command frequently heard. We wanted to see poems go from a draft to finished form, and from finished form to books-and many did. There was a lot of humor, too. That came from the good spirit of the place and from the sheer ebullience of being together.
None of this would have happened were it not for Jean, who arrived in May, and was open for business by Memorial Day weekend every year. I think she would have loved to stay at the farm year-round, but there was no central heat. The cast iron stove in the kitchen, the open hearth in the dining room, and a gas heater in the living room took the chill off, but eventually October frost made it necessary for Jean to return to Boston.
Unless it was pouring-or too cold or buggy-we sat outside under an apple tree near the vegetable garden from 10:30 until lunchtime. Our numbers varied from a few to a dozen, and that didn't matter. What mattered was being there.
- Elizabeth Knies